Product Features
High-quality magnesium board is used for MGO Decorative Panel. It has a marble and glass surface effect
with a high glossy coating finishing. The special coating method makes it possible to use nailgun processes
and on-site cutting. Easy installation; only with nailgun, double-sided tape or silicone.
Application Guide
1. When applying the board directly onto:
a) concrete, use epoxy bond, masonry bond, or silicone to attach it.
b) plywood or plaster board, use silicone, double-sided tape, nailgun, or glue gun on top.
2. When using only bond for first adhesion, wait until the bond dries. Using a nailgun for first adhesion will leave nail marks on the surface. For no marks, heavy-duty double-sided masking tape can be used with bond.
3. Slowly cut with carpenter's round chain saw. When the surface is rough, finish it with sand paper.
4. Use stainless steel nails to avoid rust.


5. Stainless mouldings can be used as finish on the end, joint and corner. Other various existing mouldings can be used as well.

6. Once the application is done, remove the protective plastic on the product surface, and if there is debris, smoothly wipe it with a dry cloth.
7. Be careful: chemical cleanser and washing may cause defects on all products. However, bathroom products can be washed with water.
Colour
Example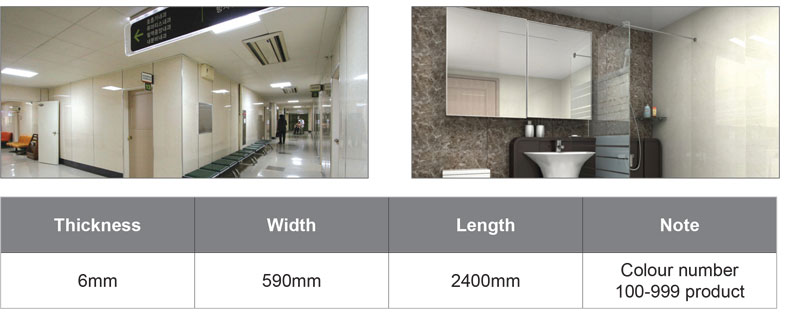 Address: 68 Compton Rd, Woodridge, QLD 4114
Ph : 07 3299 1978
Fax : 07 3299 1975
Email : totalcabinetsupplies@gmail.com
Mon – Fri 6.30am – 5pm
Sat 8am – 1pm